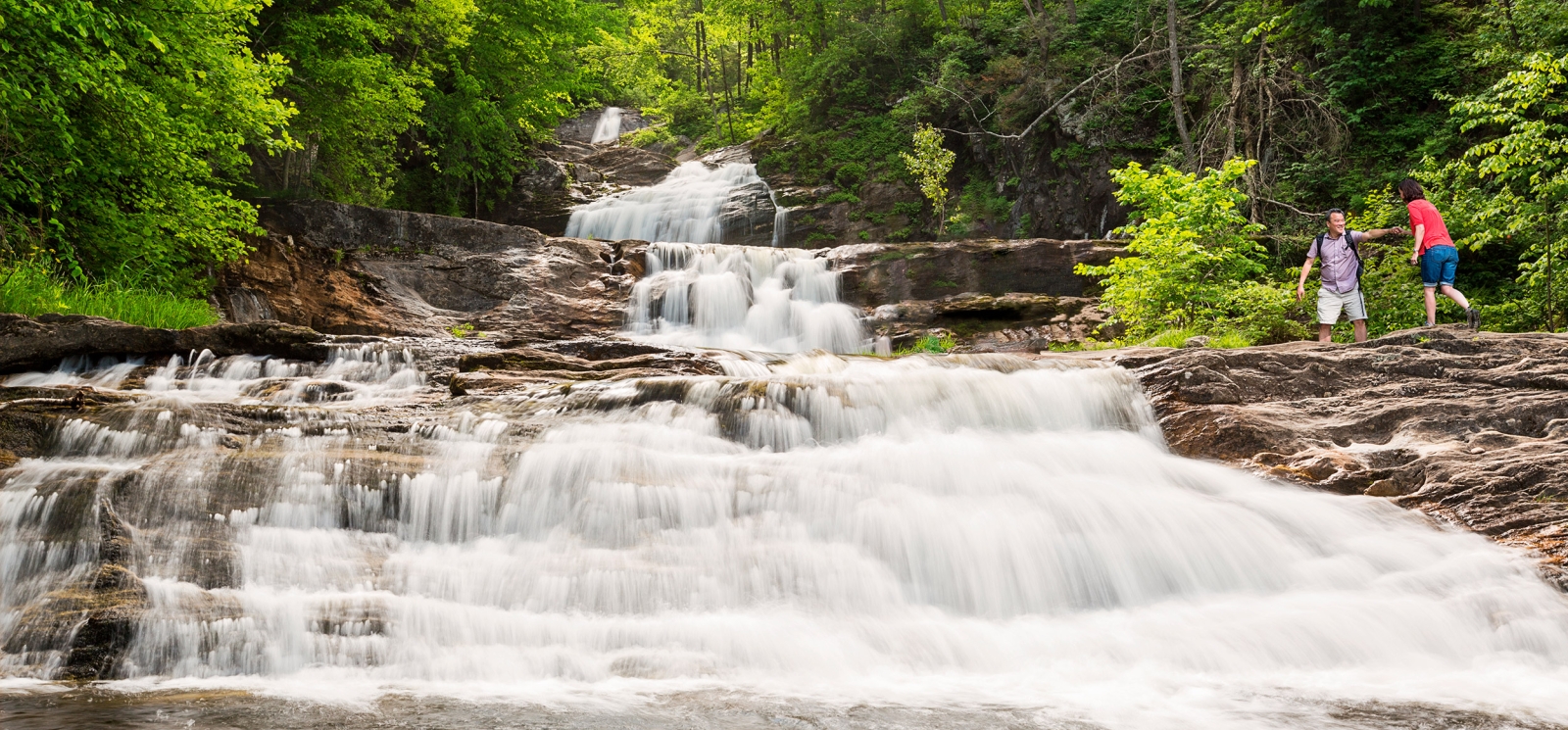 Hiking in Connecticut State Parks
Endowed with Connecticut is an underappreciated paradise for hikers regardless of your experience. And once you finish trekking through the woods, you're never far from some tasty eats. Over 2,000 miles of hiking trails crisscross Connecticut's diverse terrain of rolling hills, craggy traprock walls, rivers, lakes, waterfalls, coastal marshes, meadows, and more. Take your pick from literally hundreds of trails covering the full spectrum of distance, difficulty, and destination.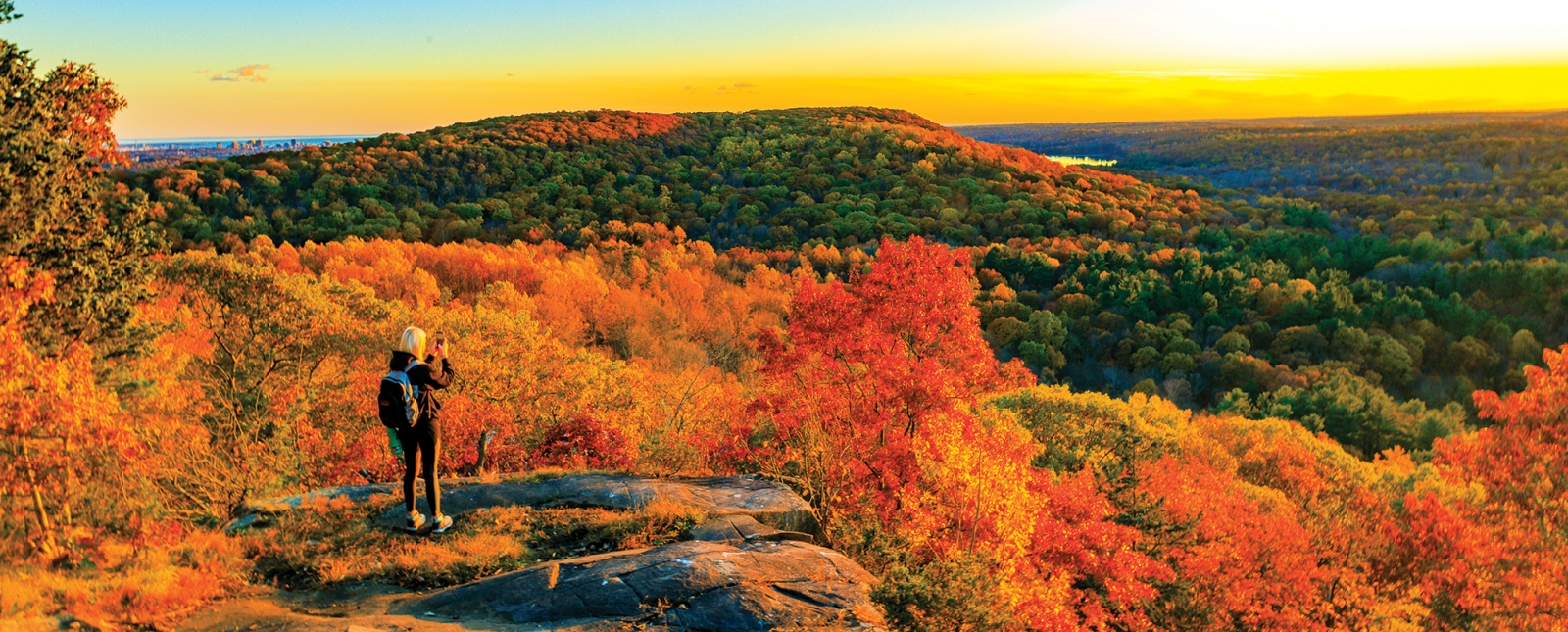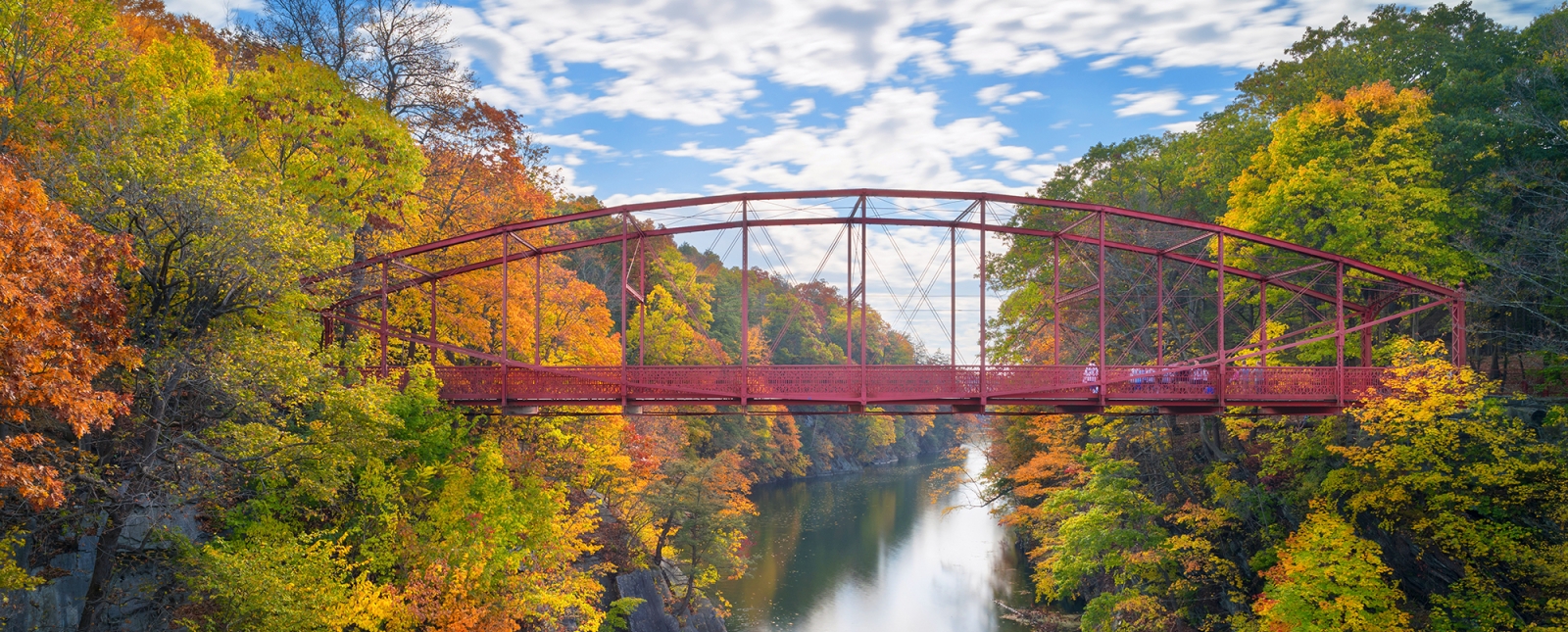 Trail Guidelines
Always let others know where you are and when you expect to return.
Plan your route! 
Keep to blazed trails only. Cutting new trails is illegal unless authorized. To request permission to put in a new trail contact DEEP's Trails Coordinator at (860) 424-3578. For permission to perform trail maintenance contact the Park Supervisor.
Park in designated areas only.
Keep your dogs on a leash.
Respect private property. 
Be aware where hunting is allowed and if hunting season is open. Wear bright orange for extra protection.
Stay clear of active forest management. Roads and trails may be temporarily closed. 
Avoid wetlands, steep slopes, and other fragile areas after heavy rainfall to prevent erosion, keep yourself safe, and avoid disrupting wildlife habitats.
Placing Your Own Letterbox or Geocache
Want to place your own letterbox or geocache on state land? Here's how to get started.  
Find the perfect spot. 
Look for a site that it isn't too easy to reach, but safe to access via multiple routes. Boxes and caches may not be placed in a protected area, including natural area preserves and sites of historical or cultural significance.
 
Apply for a permit. 
Submit a completed Permit Application Form (Word | PDF) to the park supervisor where the box or cache will be located for review. The proposed location is subject to inspection and approval before State Parks grants permission. A permit is valid for as long as the letterbox or cache is in place.
 
Formulate your clues or calculate coordinates. 
For help, check out letterboxing.org or geocaching.com. Make sure instructions or coordinates are accurate. Online descriptions must include information on park fees or other relevant DEEP regulations such as park hours, pets on leashes, etc.
 
Prepare your letterbox or geocache. 
Contents must be suitable for all ages. No food, alcohol, tobacco, prescription or illicit drugs, adult items, weapons, or other dangerous items. Each approved letterbox or geocache must contain some indication of DEEP's approval along with your contact information.
 
Hide your container. 
Camouflage the site with leaves or branches. Do not bury, do not put in stonewalls or in archaeologically or ecologically sensitive areas, or disturb the environment or existing structures in any way. 
 
Make periodic maintenance checks. 
Any box or cache showing evidence of environmental damage such as an unauthorized trail leading to it or a new clearing around it, must be removed or moved to a new re-permitted location.
Note: Unauthorized boxes or caches and those violating any DEEP policy will be removed and owners may be subject to enforcement actions per park regulations.
Additional Resources
Letterboxing