Peoples State Forest
Barkhamsted, CT
Peoples State Forest's rugged terrain, dense forest, stunning waterfalls, and pristine river offers some of the state's finest fishing, hunting, and winter sporting activities. The West Branch of the Farmington River, designated as a Wild and Scenic River by the National Park Service, is the center point of the park's world-class, river-based recreational activities including trout fishing, canoeing, kayaking, and tubing. Other attractions include the 200-year-old white pine picnic groves in the Matthies Grove and Whittemore Recreation Areas, over 11 miles of hiking trails, the Barkhamsted Lighthouse, and other cultural and historic sites.
Did you know that Peoples State Forest is literally the people's forest? The Connecticut Forest and Park Association coordinated a subscription program that allowed groups like the Daughters of the American Revolution and the Connecticut Federation of Women's Clubs and countless individuals to purchase land for roughly $8 an acre to donate to the people of Connecticut. The forest was established in 1924. Power to the people!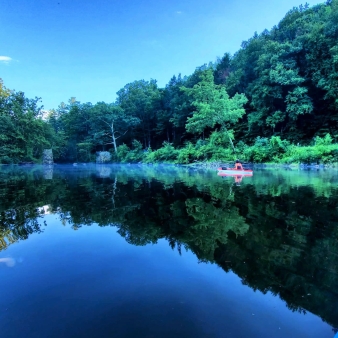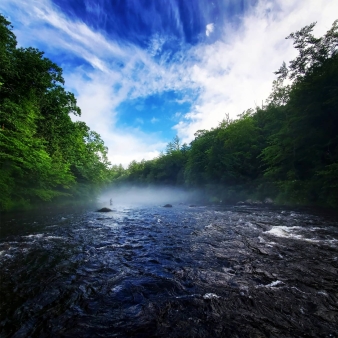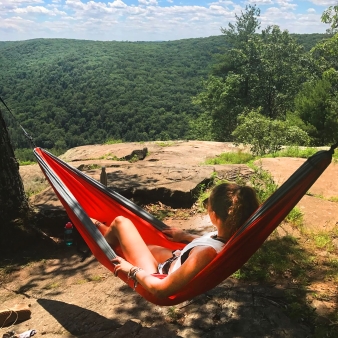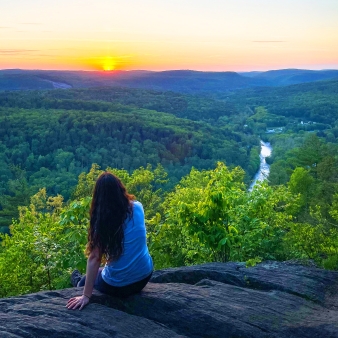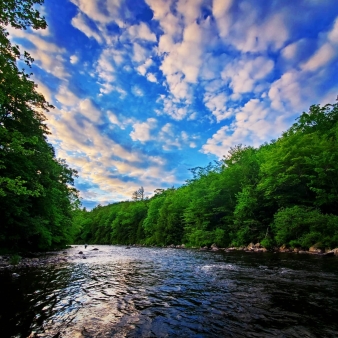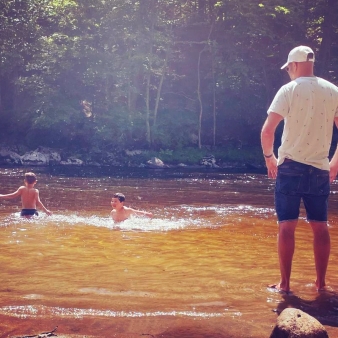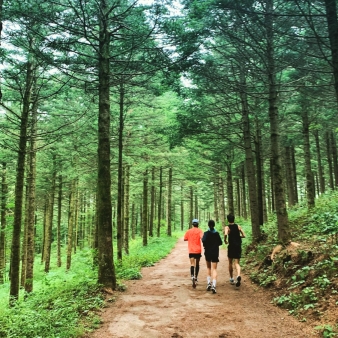 Location
Off Route 20 or Route 318
Barkhamsted, CT 06063
Details
Open Daily
(8:00 a.m. – Sunset)
Contact
Main (860) 379-2469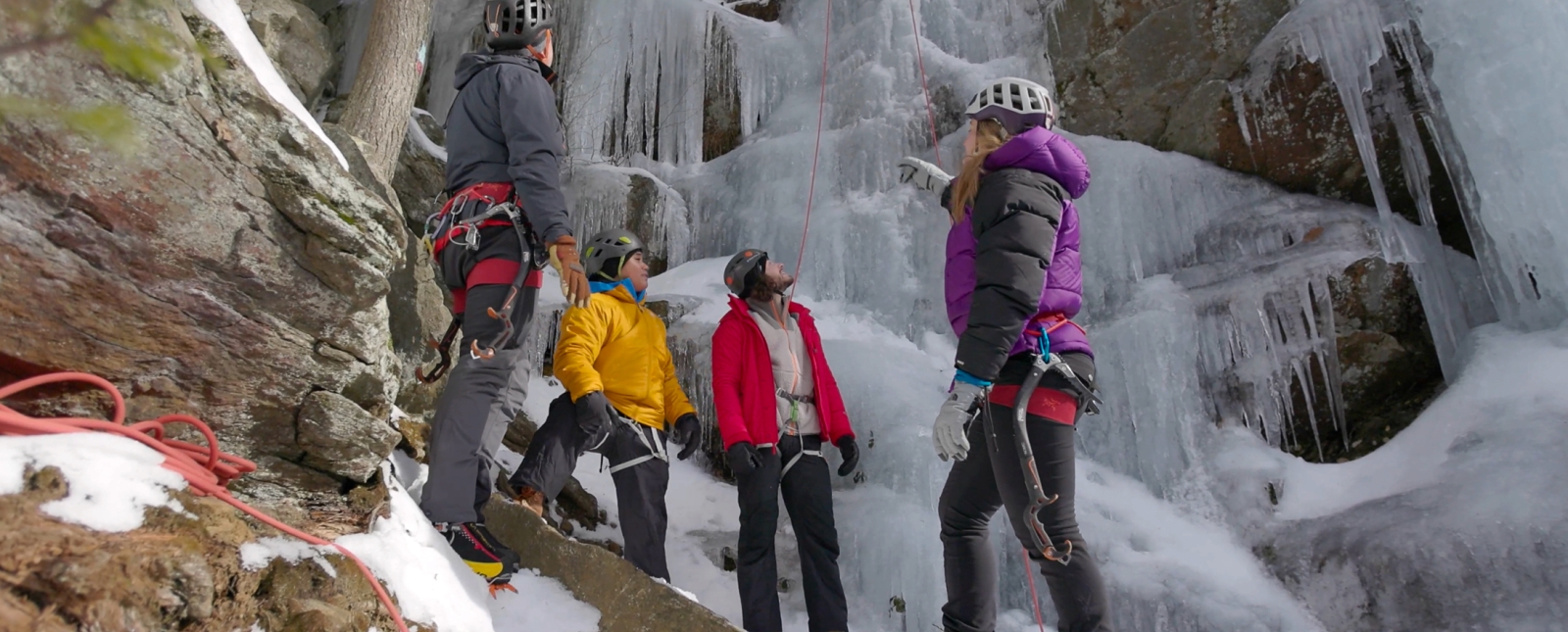 Biking
Body
Mountain bikers are welcome to use the snowmobile trails for some thrilling, challenging singletrack. The trails are typically muddy with advanced, tricky terrain and rock obstacles best suited for the expert riders. Nearby Nepaug State Forest is a better option for casual and novice riders, offering a mix of everything from beginner-friendly gravel roads to technical singletrack, jumps and drops to excite the most experienced riders. 
Boating
Body
This stretch of the Farmington, a Wild and Scenic River designated by the National Park Service, is synonymous with canoeing, kayaking, and tubing. Along the river, find a number of spots for your craft in the water, like Whittemore Grove, the beach behind the baseball diamond, or Pleasant Valley Bridge. But be warned. Depending on the time of year, recent storms, and other factors, you could be in for a heart-thumping, white-knuckle ride or a more leisurely float. Use caution and check water levels before heading out.
KNOW BEFORE YOU GO
Camping
Body
Youth Group Camping is available to qualifying youth organizations. 
For tent/RV campsites and rustic cabins, a campground is located across the river at nearby American Legion State Forest. 
 
Fishing
Body
The Farmington River's cool flows and swirling pools and are a magnet for fish, and, as a result, for anglers, too. The stretch of river that flows through Peoples is located downstream from the West Branch Reservoir, which sends a reliable supply of very cold bottom releases, maintaining the perfect temperature habitat for native aquatic life, particularly trout. In combination with DEEP's regular stockings of adult trout, this section of the Farmington has the highest trout population density in the state — numbers that rival western streams.
Types of fish: Trout, bass, pickerel, pike
KNOW BEFORE YOU GO
Before heading out, be sure to check the latest river conditions and fishing regulations.
Hiking
Body
A range of interconnected multi-use trails and blue-blazed hiking trails wind their way through Peoples State Forest's rugged terrain, taking visitors past gurgling streams, iconic overlooks, waterfalls, and cultural and historic sites.
Jessie Gerard Trail (Yellow/Blue Blaze)
1.3-mile one-way climb with jaw-dropping river views
Level of difficulty:  Moderate to difficult
Start at the East River Road trailhead near the Barkhamsted Lighthouse site. The right trail fork heads north, up a series of steep switchbacks to some of the best scenic overlooks in the state, including Chaugham's Lookout. The left trail fork is more direct route to the overlooks, with a much steeper climb up 299 stone steps. Continuing north, the trail passes between the Veeder Boulders before ending at the Big Spring Recreation Area on Greenwoods Road. Head back the way you came or via Quarry Road or continue exploring on the Charles Pack Trail (Yellow/Blue Blaze).
Interested in Letterboxing? Get clues for the Jessie Gerard Trail.
Elliott Bronson to Walt Landgraf Trail (Red Blaze)
3.2-mile loop over Ragged Mountain and to the Indian Caves
Level of  difficulty: Moderate to difficult
Starting in the lot near Matthies Grove, this trail runs through the southern portion of the forest crossing a 60-foot cliff; takes a rugged climb over Ragged Mountain; then leads to an area of rock ledges known as the Indian Caves. (For 1500 years, soapstone was quarried here by Native Americans.)
KNOW BEFORE YOU GO
Hunting
Body
Many areas across the forest are open to public hunting and trapping, with both firearms and archery permitted. Depending on the season, hunting is permitted for:
Small game
Waterfowl
Fall deer/turkey
Spring and fall firearms turkey
Muzzleloader deer
No-lottery shotgun deer
KNOW BEFORE YOU GO
Consult DEEP for more information on the latest rules and restrictions by season.
Nature
Body
(Seasonal)
Built by the Civilian Conservation Corps in 1935, the historic Stone Museum features exhibits on native flora and fauna, local history artifacts, including relics from the Barkhamsted Light House site, rocks and minerals, an insect collection, and more. Programs are offered throughout the summer. The museum is on the National Register of Historic Places.
KNOW BEFORE YOU GO
The museum is open from Memorial Day through Labor Day, Friday through Monday 10:30 a.m. - 4:30 p.m. Admission is free.

Picnicking
Body
Set up for an hour or an afternoon and picnic amongst the towering 200-year-old white pine groves alongside the Farmington River in Matthies Grove or upriver in the Whittemore Recreation Area. Matthies Grove is also home to a picnic pavilion, available for reservation, a large field, and other amenities.
Open-air picnic shelter rentals
30 x 60-foot picnic shelter: Partially open space for 100 people, 10 picnic tables, one large, working fireplace, and access to nearby restrooms and parking. No electricity or running water.
Available: Memorial Day through Columbus Day
Rental Fee: $220 (plus $9 processing fee). Does not include parking.
Reserve an open air picnic shelter
Winter
Body
Snowmobilers will find a 13-mile series of looped trails using seasonal hiking trails and unplowed forest roads. The trails offer a range of difficulty, including a large open area near the parking lot at Matthies Grove ideal for practicing, makes the Forest a prime spot to snowmobile, whether it's your first time or fiftieth.
KNOW BEFORE YOU GO
Accessibility
Campground restrooms
Parking
Picnic Tables
Picnic Shelter