Harkness Memorial State Park
Waterford, CT
With its unparalleled views of the Long Island Sound, architectural splendor, and "Great Gatsby" vibes, this park is a popular destination for picnicking, flying kites, birding, fishing, and photography. The park's crown jewel, Eolia, was the elegant summer mansion of Edward and Mary Harkness, beneficiaries of the oil fortune Edward's father amassed as a silent partner to John D. Rockefeller 's Standard Oil Corporation.
The 42-room Renaissance Revival structure is surrounded by 230 seaside acres of sweeping lawns, stately trees, magical gardens, and a sandy beach. Of the park's 60 different structures, 15 are listed on the National Register of Historic Places. Though the Harknesses were wealthy members of high society, the mansion wasn't the site of lavish parties. They were more private, preferring to host intimate gatherings with the J.P. Morgans, J.D. Rockefellers, and the likes. More philanthropist than socialite, they bequeathed over $200 million – $2 billion in today's dollars – to a wide range of charitable, cultural, health, and community organizations, including the State of Connecticut. Upon her death in 1950, Mary left the estate to the State of Connecticut for the well-being of its citizens.
Swimming is not permitted at Harkness Memorial Park. No vehicle access to the park north of Great Neck Road (the Verkades Property); walk-in access only.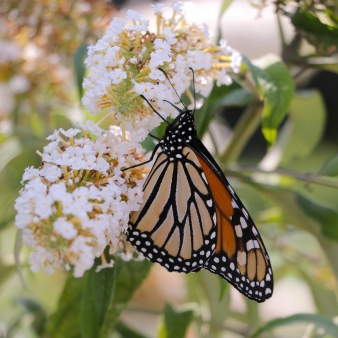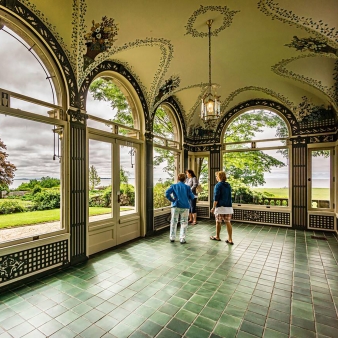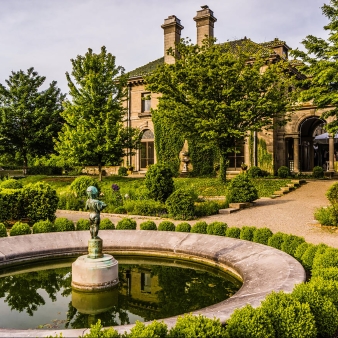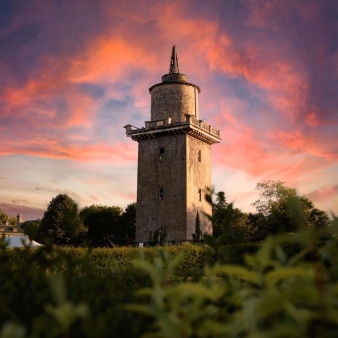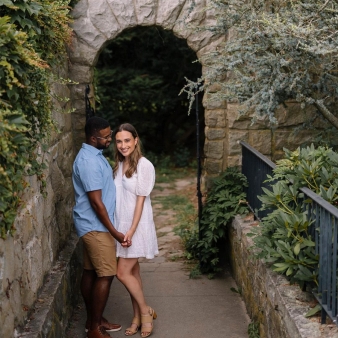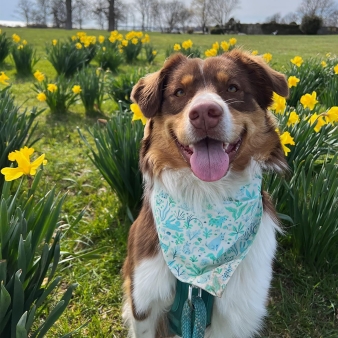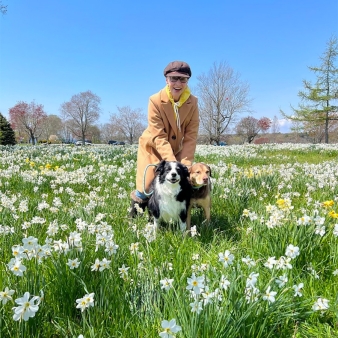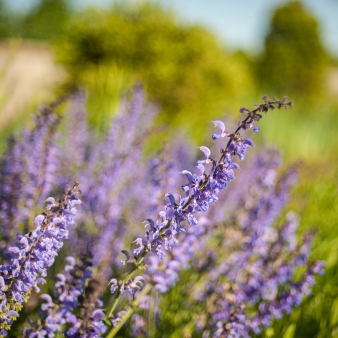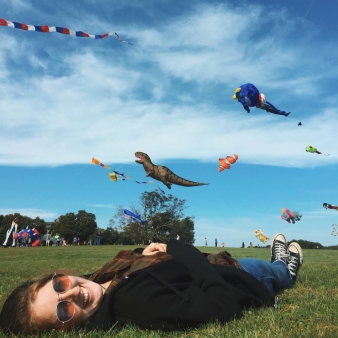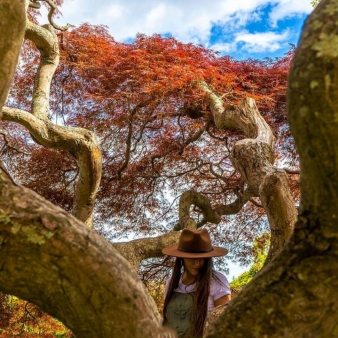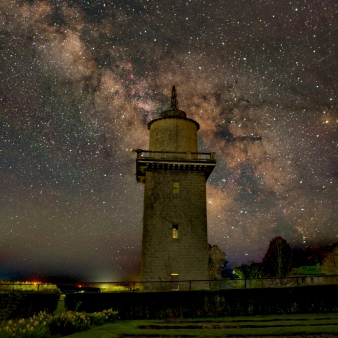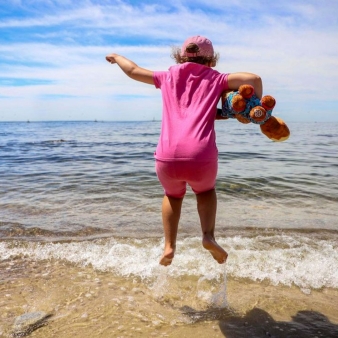 Location
275 Great Neck Rd.
Waterford, CT 06385
Details
Open Daily
(8:00 a.m. – Sunset)
Contact
Main (860) 443-5725
Fishing
Body
Head down to the beach — ideally early morning or evening during high tide — with your rod and lures in tow for some surfcasting at one of the state's go-to shoreline fishing spots. Unlike other coastal parks, the crescent slip of sand is more popular with anglers than beachcombers!
Types of fish: Blackfish, bluefish, and striped bass can be caught off the rocky point and summer flounder off the beach.
KNOW BEFORE YOU GO
Hiking
Body
Harkness's mix of landscapes, from sand dunes, to salt marsh, to coastal grasslands, makes for an interesting array of terrain — and an ideal habitat for birds and wildlife, including the piping plover, least terns, and osprey.
Harkness Memorial Loop
1.3-mile loop trail 
Level of difficulty: Easy
Walk this beautiful park and grounds and see all this park has to offer — the mansion, boardwalk, wildlife viewing platform, gardens and the views of Long Island Sound. The popular loop takes an average of 25 minutes to complete.
Niering Walk 
0.25-mile
Level of difficulty: Easy
Take this easy stroll for prime bird watching and exceptional views of Goshen Cove. Try to spot some of the rare species found along the shoreline and in the marshes of the nature preserve. About halfway through the loop, take a short detour to the wildlife viewing platform. Don't forget your binoculars!
KNOW BEFORE YOU GO
Historic
Body
FORMAL GARDENS
Lush gardens flank the mansion, adding to the beauty and splendor of the seaside panorama. The gardens were largely the work of Beatrix Farrand, renowned landscape designer and one of the founders of the American Society of Landscape Architects.
Each of the estate's six gardens has its own theme.
East Garden – A traditional, English garden with purple, pink, yellow, and white flowers: many heliotrope, Mrs. Harkness's favorite bloom; a collection of Asian statues; and a jade stone pool.
West Garden – A formal Italian garden serves as a lively contrast to its tranquil eastern counterpart with symmetrical footpaths, iron fencing, a limestone fountain, bright floral arcs and spires, and a pond with cattails and water lilies.
Boxwood Parterre – A nod to a deck of cards, with low boxwoods manicured like spades, diamonds, clubs, and hearts, all surrounded by an elaborate ironwork fence.
Alpine Rock Garden - Reflects the Maine coastline with a sprawling landscape of evergreens, spring bulbs, and summer perennials, a flowing stream, rock pond, and cave.
The Grounds – Clusters of trees and shrubs transform the grounds and extend the botanical flow throughout the property, along with meadows, an orchard, and golf course.
Cutting Garden – Rows upon rows of vibrant, dramatic blooms make it possible to bring the gardens inside, too.
MANSION
Named Eolia, for the island home of the Greek god of winds, this stunning Roman Renaissance Classical Revival-style mansion is the former summer estate of oil magnate, Edward Harkness, and his wife, Mary. The 42-room mansion features 20 bedrooms, 14 baths, and 11 fireplaces, a pergola (tearoom), and carriage house (support complex). The Harkness family used the 200-acre property as a working farm to supply their produce, poultry, and dairy while in Waterford and at their New York City residence. The grounds also included a nine hole golf course and garage large enough to fit five cars, three limousines, and a truck used to cart 1,500 pounds of ice to the estate every other day in the summer.
In the mid-1990's, $3.8 million extensive renovation project was done to restore the mansion and gardens to their original grandeur, including infrastructure upgrades, structural repairs, cosmetic refurbishments, and accessibility enhancements. Preservation of the historic mansion is important due to the architectural significance of the buildings and grounds.
MANSION AND GARDEN TOURS
Friends of Harkness volunteer docents lead guided tours of the Eolia Mansion and Formal Gardens on weekends and holidays between Memorial Day and Labor Day.
Tours run from 10:00 a.m. to 2:00 p.m. (last tour begins at 1:30 p.m.)
Group Tours available by appointment. Email Friends of Harkness for information and availability.
Donations appreciated
MANSION RENTAL
Eolia - The Mansion at Harkness Memorial State Park is available for weddings, private parties, seminars, conferences, luncheons, and teas from March 1 to December 23. Learn more about hosting a gathering at the Eolia Mansion, below.

Picnicking
Body
Picnic on the vast lawns or the sandy beach amid the panoramic views of the Long Island Sound. On a clear day, you can see Fishers Island, Great Gull, Little Gull, Plum Island, and the North Fork of Long Island.
Tables and grilling stands are provided. Please carry out everything you bring in!
Accessibility
Mansion Tours
Parking
Picnic Tables
Restrooms
Pets
Picnic Areas & Lawn
On leash
Beach & Formal Gardens
Not permitted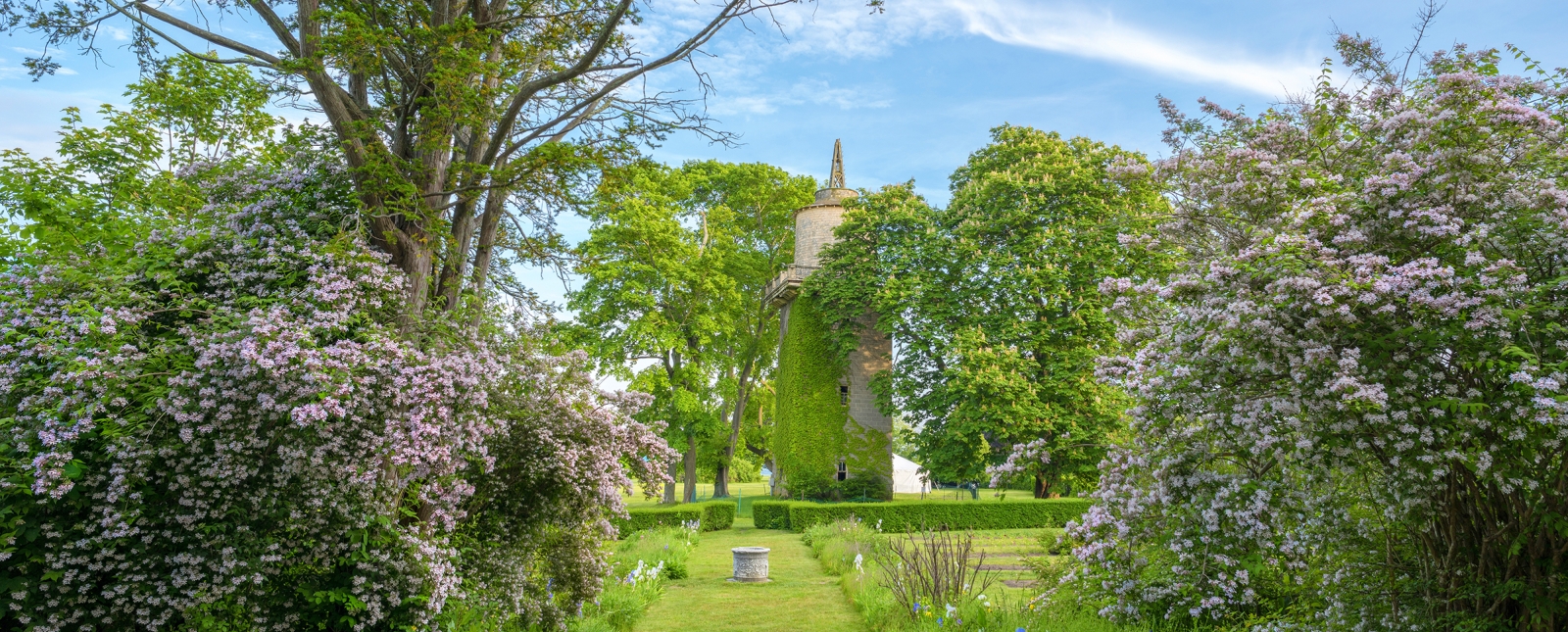 Eolia - The Mansion at Harkness Memorial State Park
Enjoy the panoramic views of Long Island Sound from Eolia, the elegant summer mansion of the Harkness family set on over 230 seaside acres of sweeping lawns, with stately trees and spectacular gardens. Eolia is available for weddings, private parties, seminars, conferences, luncheons, and teas.
INFORMATION AND RESERVATIONS
Availability
Eolia is available to rent from March 1 to December 23.
From Memorial Day to Labor Day, rental is for functions beginning after 5 p.m.
Prior to Memorial Day weekend or after Labor Day, the mansion is available during the day or evening.
Those hosting private events at the mansion are reminded that the park is a public facility and visitors are permitted on the grounds until sunset.

Wedding and Party Fees
The rental fee of $5,100 includes exclusive use of the first floor of the mansion and south courtyard tent for five hours with an additional 2.5 hours set up and breakdown. Purchase additional time for $1,000 per hour to the midnight curfew.
DAY USE
Seminars, conferences, luncheons, and meetings have a four-hour base rate, Monday - Thursday, 8:00 a.m. to 4:00 p.m.
Music Room: 80 guests maximum, base rate: $650, additional time $220 per hour
Dining Room: 40 guests maximum, base rate: $500, additional time $160 per hour
Breakfast Room: 30 guests maximum, base rate: $500, additional time $140 per hour
Approved Caterers
A Thyme to Cook
426 Northwest Corner Road
North Stonington, CT 06359
Michael Ferreira
(860) 887-5932
athymetocook.com
Culinary Concerts Inc.
51 Boston Post Road
Madison, CT 06443
Christopher Bracken
(203) 245-0184
culinary-concerts.com
Gourmet Galley Catering, LLC
138 Norwich Westerly Road
North Stonington, CT 06359
Gina Barber
(860) 415-9589
gourmet-galley.com
Ivy's Simply Homemade
316 Boston Post Road
Waterford, CT 06385
Ivy Mellow
(860) 442-8646
ivyssimplyhomemade.com
Coastal Gourmet
63 Williams Avnue
Mystic, CT 06355
Jenna Landon
(860) 572-1111
coastalgourmetct.com