Dinosaur State Park
Rocky Hill, CT
A 200-million-year-old fossil trackway, nature trails, arboretum, and interactive exhibits bring the Mesozoic era to life. Explore a paleontological museum and enjoy the outdoors...all in one trip in a park like no other. The Park features over 750 early Jurassic dinosaur footprints — one of the largest dinosaur track sites in North America — preserved in place inside the museum, alongside exhibits about dinosaurs, fossils, and Connecticut geology.
History
The Park is located in the Connecticut River Valley, where outstanding specimens uncovered in 19th century brownstone quarries have found their way into museums throughout the world. In 1966, a new chapter was added to that storied history with the discovery of more than 2,600 individual dinosaur footprints, most classified as Eubrontes Giganteus.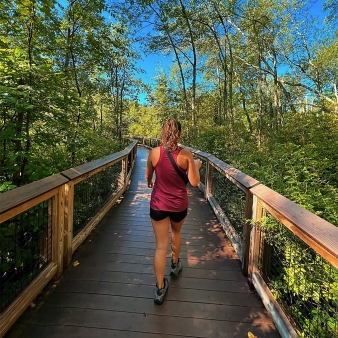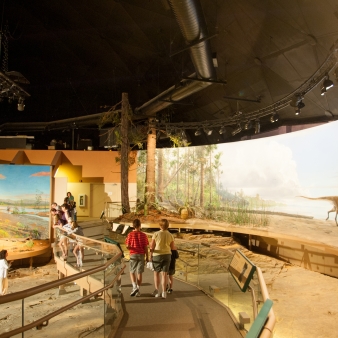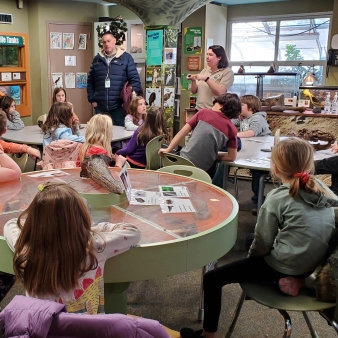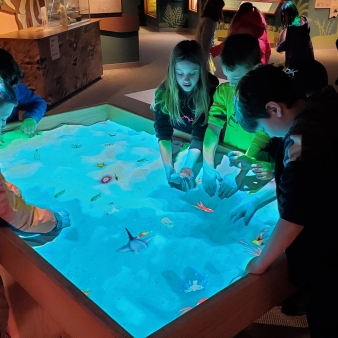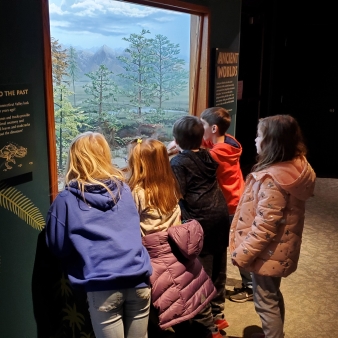 Location
400 West St.
Rocky Hill, CT 06067
Details
Open Tuesday – Sunday
(9:00 a.m. – 4:30 p.m.)
Contact
Main (860) 529-5816
Email deep.dinosaur@ct.gov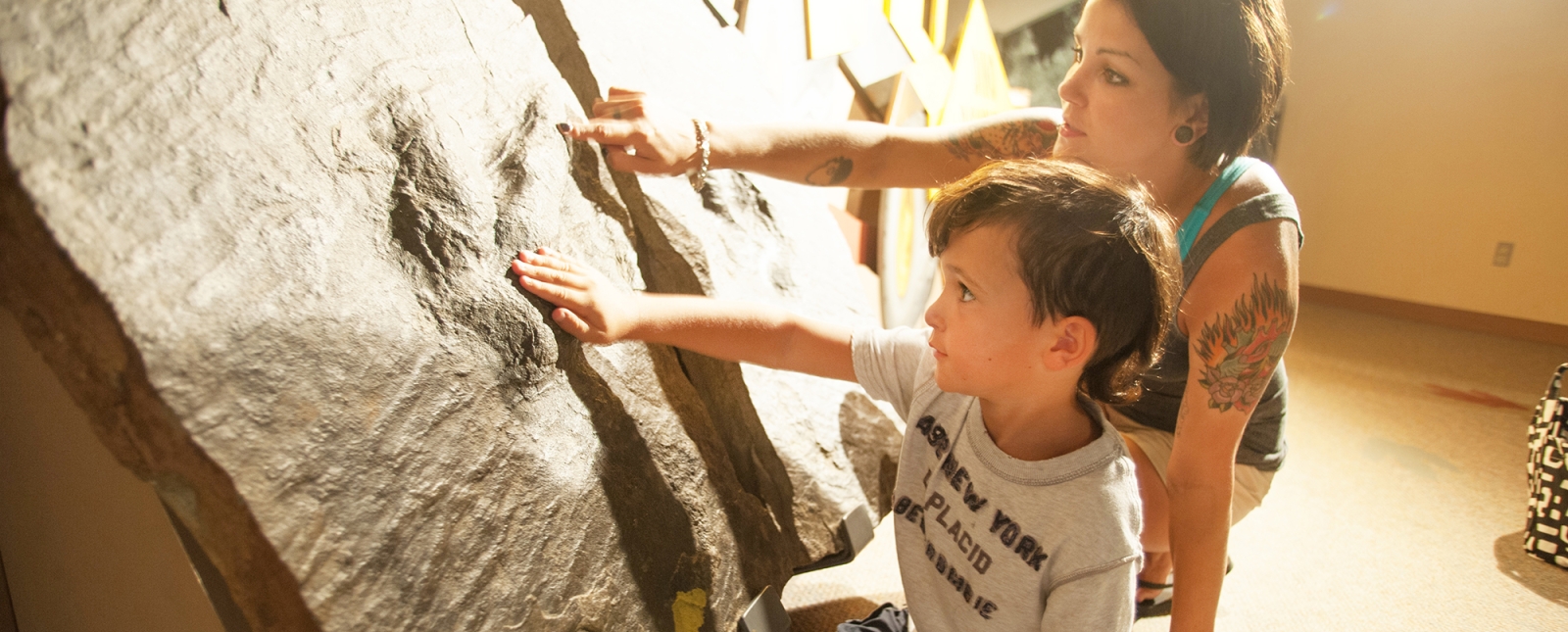 Hiking
Body
The park's more than two miles of nature and hiking trails wind through a rich diversity of habitats, including swamps, dense forest, meadows, and a traprock ridge composed of basalt rock, formerly hot lava.
Red Trail Loop  
0.75-mile loop trail and boardwalk 
Level of difficulty: Easy to Moderate
Starting from the amphitheater area, this trail connects the Red and Blue Trails. The circuit, a combination of packed dirt paths and boardwalk, winds through red maple and shrub swamps, native plants, a butterfly garden, and vernal pool.
Enrich your outdoor experience. Find interesting geologic features with EarthCache. 
Note: No pets or bikes on the nature trails.
Know Before You Go
Historic
Body
Arboretum
The arboretum contains more than 250 species of Mesozoic Era plants, trees, and shrubs. The collection of plant families were curated to recreate an environment that closely reflects the one the dinosaurs roamed many centuries ago.  
Arboretum Map
Fir Collection - Douglas, Nikko, Nordmann, and Concolor firs
Arborvitae Wall - Conifers, including Hiba Arborvitae (Thujopsis dolabrata 'Variagata")
Cedar Collection - Lebanon, Deodar, and Blue Atlas Cedars and the California incense cedar
Pine Grove- "White Mountain", Blue Jay, Himalayan, Bosnian, 'Pendula' and 'Waterii' Scots pine 
East Side Conifers- Japanese cedar, 'Oregon Blue" Lawson cypress, weeping Alaskan cedar, Hinoki false cypress, and "Chinese fir"
Rock Garden - Junipers, false cypresses, small arborvitae, dwarf firs, and flowering plants such as lavender and thyme, amongst exposed rock ledges
Plaza del Sol - Japanese umbrella pines
Southeast Collection - Bald cypress, American sycamores, black gum, willow oak, pawpaws, sweetbay magnolia, Carolina allspice, Persimmon, Giant sequoia (Sequoiadendron giganteum), "Hazel Smith" cultivar, Dawn Redwoods, and golden larch
Spruce Collection - Hondo spruce, Oriental spruce, Serbian spruce, and Black Hills spruce
East Asian Garden - Chinese swamp cypress, weeping katsura tree, "kew" ginkgo, and yellow-groove bamboo
London Plane Trees - Hybrid American and Eurasian sycamores
Exhibit Center
Head to the geodesic dome for a bird's-eye view of over 750 preserved dinosaur tracks that date back 200 million years to the early Jurassic period. This portion of the preserved Mesozoic floodplain includes just a fraction of the over 2,000 dinosaur tracks discovered in the 1960s—the other rest of the tracks were reburied for natural preservation. Along with the tracks, check out a model of a Dilophosaurus—a 18-20-foot-long predator and a possible source of the tracks, dioramas of Triassic and Jurassic environments, fossil collections, and hands-on interactive exhibits.
In-Person Field Trips 
Available September – June, the park offers guided programs throughout the school year for grades 1 and up. Your visit will begin with a presentation, followed by a guided tour of the trackway, and an activity with the following themes:
Grades 1-5 Fun with Fossils - How do we know that ancient life, including Dinosaurs, existed? Travel back in the time to learn what Connecticut was like at the time of the dinosaurs and what we can learn about dinosaurs from their footprints and fossils. Students will examine a wide variety of fossils and dinosaur models to learn what made dinosaurs unique.
Grades 3-5 Rocks and Minerals Around Us - The rocks and minerals around us tell a story of dramatic changes in Connecticut over hundreds of millions of years. We use many of these materials in our lives today. Students will examine samples of rocks and minerals from around Connecticut, explore their distinctive properties, and discuss ways we use these materials.
Grades 6-8 CT's Fossil Preservation - Many geologic processes need to occur just at the right time for us to experience Connecticut's one-of-a-kind fossils! Through investigation, discover how energy and water have cycled through time to preserve the fossils here.  
Grades 9-12 and College The Speed of Dinosaurs - While dinosaur bones can tell us what dinosaurs looked like, and how they died, dinosaur tracks can tell us what they did while they were alive! In this activity, we will get down onto the trackway (no shoes allowed, just socks!) and take dino measurements. Then, using these measurements, calculate the estimated speed of the individual dinosaurs as they walked across our trackway.  
Ready to sign up?  
Please complete the Museum Program Reservation Form  
Fees:   
Student Ages 5-under: $1  
Student Ages 6-12: $3  
Student Ages 13+: $7  
Adults: $6  
$50 minimum fee for 1.5-hour guided program 
Large Group Auditorium Program
Grades 3-8 Dinosaurs of Connecticut - Travel back in the time to learn what Connecticut was like at the time of the dinosaurs and what we can learn about dinosaurs from their footprints and fossils. Looking at real fossils from our area, students will learn about the amazing variety of dinosaurs and other animals that once called the area home some 200 million years ago.   
Fees:   
Student Ages 5-under: $1  
Student Ages 6-12: $3  
Student Ages 13+: $7  
Adults: $6 (1 adult free for every ten students)  
Minimum fee for a facilitated program (1.5 hours in length) is $50; Minimum group size is 10, maximum size of 60 students (call for options for larger groups).  
 Ready to sign up?  
Please complete the Museum Program Reservation Form
Virtual Field Trips
Online only, using video conferencing software   
Dinosaur State Park is offering live virtual programming using video conferencing software. Led by park staff, each 30 to 45-minute program uses a dynamic and interactive format, giving students and educators an opportunity to make observations and ask questions. The unique format gives us the ability to show different aspects of the park within seconds, enabling more depth than typically possible in person. The following topics are available:
Connecticut's Geologic History  
Be a geologist! Learn about the geologic history of Connecticut. Discover how Connecticut's rocks allowed dinosaur tracks from the early Jurassic to be preserved until the modern day. Learn about Connecticut's minerals and explore how they can indicate the different geologic events that happened in Connecticut through time.
Dinosaurs of Connecticut  
Meet the incredible creatures that roamed Connecticut during the Age of Dinosaurs!  Looking at real fossils from the State of Connecticut, students will learn about the amazing variety of dinosaurs and other animals that once called the area home some 200 million years ago. 
Fossil Discovery (PreK-1st Grade)  
How do we know dinosaurs existed? Join us as we travel to the past to discover all of the different clues left behind by the dinosaurs and what each can tell us about their lives. Together, we will investigate fossil bones, teeth, and other surprising clues that helped these creatures survive!  
Ready to sign up?   
Please complete the Virtual Program Reservation Form  
For questions, please contact Michael Ross at deep.dinosaur@ct.gov.
Gem and Fossil Mining
Available May 1 - October 31, 9:30 a.m. to 4:00 p.m. (except during rainy weather)
"Mine" for gems and fossils in the park's outdoor mining sluice. To participate, purchase bags of mineral and gem or fossil mining rough from the bookstore (prices range from $6 to $25 a bag). We recommend one bag for up to three or four people. "Mining" each bag takes about 10 minutes and park staff and volunteer will be on hand to help you identify your new treasures.  
Track Casting
Available May 1 - October 31, 9:00 a.m. to 3:30 p.m.
Cast your own dinosaur footprint using real dinosaur prints — a one-of-a-kind experience and souvenir! The activity is free, but you'll need to bring your own materials.
Materials – For each cast, you will need:
10 pounds of Plaster-of-Paris (no substitutions)
1/4 cup cooking oil
Five-gallon plastic bucket
Cloth rags and paper towels
(The park provides Eubrontes tracks, metal rings, and water.)
Instructions – The entire process takes about 30 to 45 minutes.
Clear off the Eubrontes Track and metal ring with broom and rags. DO NOT USE WATER.
Oil the track and ring with your hands.
Center ring on the track and wrap rags around the outside of the ring.
Measure three (3) quarts of water (3/4 of one gallon jug); pour into the bucket.
Add the ten pounds of Plaster-of-Paris to the water.
Stir the plaster mixture quickly with your hands until it is smooth and has the consistency of cake batter.
Immediately pour the mixture into the prepared ring.
When the cast is hard, carefully remove the rags and the ring. Then remove the cast from the rock.
Know Before You Go – only one cast per family or group so all visitors have a chance to participate. We do not recommend casting during inclement weather.
Exhibit Center Tour
Take a virtual field trip of some of the amazing exhibits at Dinosaur State Park — from wherever! Move around and zoom in to a favorite exhibit, look for something new, and immerse yourself in the experience of walking in the footsteps of dinosaurs on the 200-million-year-old trackway — an adventure not typically open to the public.
Otozoum Activity Series 
Investigate one of our favorite artifacts, the Otozoum rock slab. This rock slab was discovered in Portland, CT during the late 1800's and has been on display to the public for over 124 years at various museums in Connecticut. New features were discovered just a few years ago…by accident after more than 100 years of research! Can you solve the mystery to help scientists figure out what these mysterious features may be? 
Don your virtual science lab coat and find your science notebook to get ready to explore the same features that researchers are currently investigating through an interactive, high-resolution, 3D computer model of the slab.
Geoscience Activity Series
Through interactive online games and activities, learn how the surface of the Earth has changed through time, and how plate tectonics form, destroy, and shape our world. With the Tectonic Plate simulator, try your skill at making mountains, volcanic islands, lava flows, and other awesome plate boundary features!
Fossil Discoveries with Kira (Park Naturalist) 
Virtual Tours  

Picnicking
Body
Pack a picnic lunch to enjoy in the Arboretum area of the park, where picnic tables and grills are available to use during park hours. Planning a private party or gathering? Reserve a private spot in our picnic shelter.
Open Air Picnic Shelter Rentals
28 x 28-ft. picnic shelter: Space for 40 people, four large picnic tables, and access to nearby accessible restrooms. No electricity, no running water. 
Available: Memorial Day through Columbus Day
Rental Fee: $150 (plus $9 processing fee). Does not include museum admission.
Reserve a picnic shelter: 
Fees
Park Grounds & Trails
Free
Exhibit Center Admission
Free – Under 5
$2 – Agest 6-12
$6 – Ages 13+
Accessibility
Exhibit Center
Parking
Picnic Tables
Restrooms
Pets
Park Grounds
Yes, on leash
Nature Trails & Exhibit Center
Not permitted