Pachaug State Forest
Voluntown, CT
Encompassing 26,477 acres of public lands, access roads, and trails across six towns, Pachaug State Forest is the largest in Connecticut. The massive park is a paradise for campers, hikers, backpackers, snowmobilers, motorcyclists, equestrians, hunters, and all-around nature appreciators, checking all the boxes for outdoor experience, rugged beauty, adventure, and adrenaline. Pachaug is derived from the Indian term meaning "bend" or "turn in the river".
The state forest is home to a rich menagerie of wildlife and terrain. Here, the Pachaug River rises from its headwaters at Beach Pond and ambles through the forest for a good portion of its course. The Pachaug-Great Meadow Swamp, a designated National Natural Landmark, is one of the finest and most extensive Atlantic white cedar swamps in Connecticut. Ponds, streams, waterfalls, ravines, mill ruins, and glacial fields dot the landscape, providing unlimited opportunity to explore four seasons a year.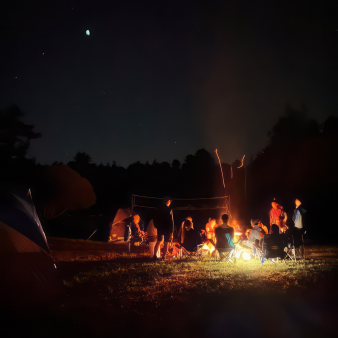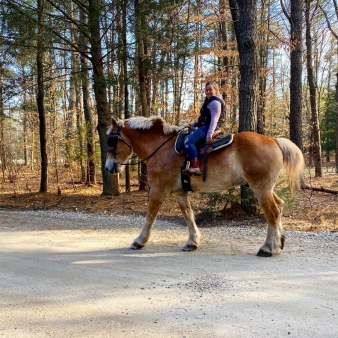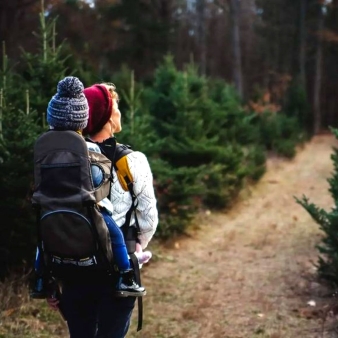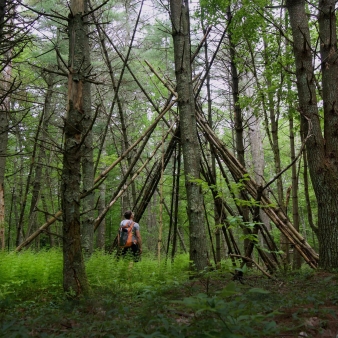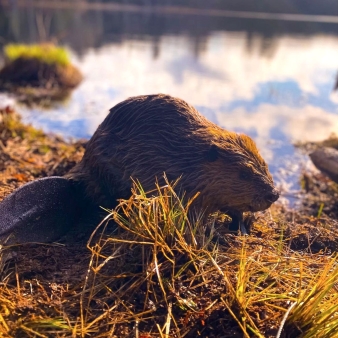 Location
219 Ekonk Hill Road
Voluntown, CT 06384
Details
Open Daily
(8:00 a.m. – Sunset)
Contact
Main (860) 376-4075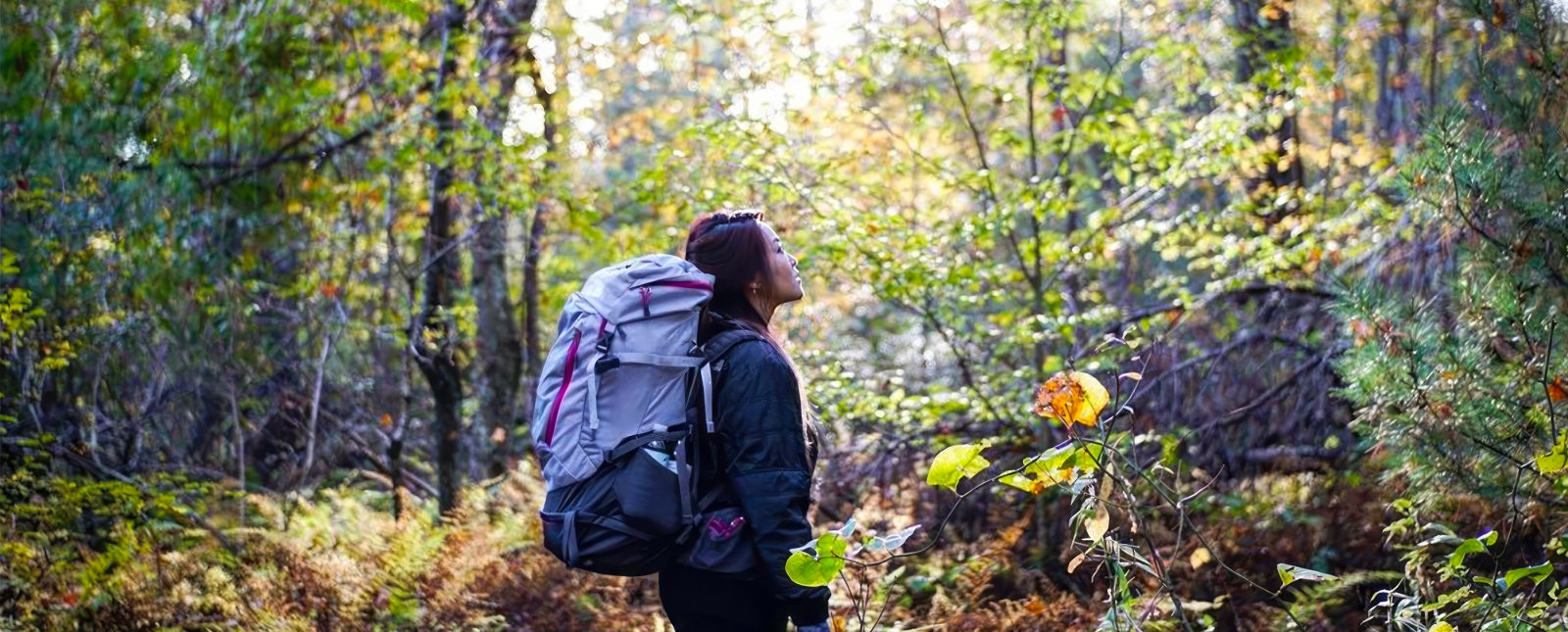 Biking
Body
The dirt and gravel multi-use trails that zigzag through the forest are popular with mountain bikers. And in winter when snow blankets the forest, the unplowed gravel roads and vast network of trails become a wonderland for snowmobilers, cross-country skiers, and snowshoers.
KNOW BEFORE YOU GO
Boating
Body
Whether you want to leisurely paddle around the small islands of Green Fall Pond (also known as Green Fall Reservoir) or zip around Beachdale Pond in a motorboat, you choose your speed at Pachaug. (As long as you keep it below 8 MPH, please).
Boat Launches
KNOW BEFORE YOU GO
Camping
Body
Pachaug's seemingly endless trails, streams, and forest to explore make it a perfect spot to set up camp and stay awhile. And with eight different camping options, you can find what you're looking for, no matter your camping style. Plus, the forest is one of the few pet-friendly spots in the state, so your best friend can join you for the adventure. Even horses are welcome. Youth group camping is also available to qualifying youth organizations. 

Pachaug State Forest Campgrounds
The forest has two main campgrounds. Mount Misery Campground, located in the Chapman area of the forest, is nearby its namesake and the forest's highest peak and in striking distance to the stunning Rhododendron Sanctuary. Green Falls is the — surprise, surprise — Green Falls area and has convenient waterside access to swimming and fishing at Green Fall Pond.
A third campground dedicated to the equine set is located near the intersection of two horseback riding trails, near Mount Misery Brook.
All three campgrounds are somewhat rustic without showers, RV hookups, and other creature comforts. But what they lack in frills and cell phone signal, they more than make up for with natural scenery, fresh air, and solitude. The perfect place to get away from it all!
2023 season: April 7 – October 9
Forest office: (860) 376-4075
Green Falls Campground 
Green Falls Road (Green Falls area)
2023 season: April 7 – October 9
18 wooded campsites with picnic table
Two pets allowed per campsite
Mount Misery Campground 
Off Route 49 (Chapman area) 
2023 season: April 7 – October 9
22 wooded sites with picnic tables
Two pets allowed per campsite
Frog Hollow Equestrian Campground
41.606° N, 71.866° W
2023 season: April 7 through October 9
18 semi-wooded equestrian campsites
Available first-come, first-served
40 RV/TENT & 18 HORSE CAMPSITES 
Daily Rate: 
$17 resident/$27 non-resident plus processing fee
Six-person maximum per site
Maximum stay: 14 days
AMENITIES
Compost toilets
Recycling 
One pet/site permitted
RESERVE A CAMPSITE 
By phone: 1-877-668-CAMP (2267)
KNOW BEFORE YOU GO
No alcohol
Campground is located near public lands open to hunting. Please use caution. 
Horse Camping in Connecticut State Parks and Forests
Pachaug State Forest Trail Backpacking Campsites
Itching to explore a little deeper into the forest? Reserve a permit to camp at one of the forest's four backpacking sites and some of the few scattered throughout the state. The backpack camping areas are primitive sites with few facilities. Although several have Adirondack-type lean-tos of limited capacity, we recommend bringing your own tents. Also, drinking water is not provided except at approved state park and forest wells.
41.621° N, 71.815° W
Backpacking site with primitive lean-to shelter, a fire ring, and nearby pond for drinking water
Location: Pachaug Trail, west side of Great Meadow Brook Pond
Availability: Year-round with permit
Maximum stay: One night
41.591° N, 71.881° W
Backpacking site with primitive lean-to shelter, fire pit, and nearby stream 
Location: Near the intersection of the Nehantic and Pachaug Trails
Availability: Year-round with permit
Maximum stay: One night
41.497° N, 71.876° W
Backpacking site with primitive lean-to shelter, a fire ring, scenic views, and a nearby pond for drinking water
Location: Narragansett Trail, north of Wyassup Lake
Availability: Year-round with permit
Maximum stay: One night
41.533° N, 71.802° W
Backpacking site with limited camp shelters, a fire ring, and nearby stream
Location: Narragansett Trail, east of Green Fall Reservoir near the Rhode Island border 
Availability: Year-round with permit
Maximum stay: One night
CAMPING PERMITS
Backpack camping permits are available by reservation only. To get a permit, call (860) 295-2923.
Submit your application form at least two weeks before your intended stay.
KNOW BEFORE YOU GO
Two pets allowed per campsite.
Camp only in designated areas indicated on the map and by signs.
Backpacking areas are located near public lands open to hunting. Please use caution. 
Hiking
Body
With four blue-blazed trails that traverse the wilds of the Eastern Connecticut, popular routes to scenic overlooks like Mount Misery, loops that bring you closer to the forest's ponds, a well-established backpacking trail network, and with a number of multi-access trails, Pachaug is a hotspot for every type of trail user.
Of the blue-blazed, foot-only trails, sections of the Nehantic, Pachaug, and Quinnebaug trails pass through the Chapman area. And Green Falls, Narragansett, Nehantic, and Pachaug through the Green Falls area.
Rhododendron Sanctuary Trail
Nature walk 
Level of difficulty: Easy 
A short scenic walk (including a planked wooden boardwalk) through rare ecological terrain — one of only few such areas in New England. The walk beautiful all year long, but especially spectacular when the rhododendron are in bloom, usually around July 4th.
Green Fall Pond Loop 
1.8-mile loop around the pond
Level of difficulty: Moderate
Take a walk around Green Fall Pond for some picturesque water — and waterfall — views, solitude, and to get your blood pumping. Cooling off in the pond afterwards is optional but recommended! (In the summer, at least.) The trail is rocky and steep in parts, but well-maintained and well-marked.
Mt. Misery Trail (Blue Blaze)
1.9-mile loop with scenic overlook 
Level of difficulty: Moderate
This trail requires a bit of a climb (though not as treacherous as the name would have you believe) but rewards you with some of the best scenic views in eastern Connecticut, which gives you some of the best scenic views the area has to offer. At 441 feet, Mount Misery Overlook is the highest point in the area and offers panoramic views of the forest and surrounding towns for its rock outcropping at the summit.
Interested in Letterboxing? Get clues for the High Ledge Lookout.
KNOW BEFORE YOU GO
Hunting
Body
Many areas across the forest are open to public hunting and trapping, with both firearms and archery permitted. Depending on the season, hunting is permitted for:
Small game
Waterfowl
Fall deer/turkey
Spring and fall firearms turkey
Muzzleloader deer
No-lottery shotgun deer
KNOW BEFORE YOU GO
Consult DEEP for more information on the latest rules and restrictions by season.
Other
Body
HORSEBACK RIDING
With three horseback riding loops recommended by the Connecticut Horse Council, additional multi-use trail access, and a designated horse camping site, Pachaug State Forest is an equestrian's dream.  
The three primary loops range in distance from six to 14 miles, occasionally overlapping as they weave through the forest's biodiverse terrain. Each loop, marked with yellow diamonds, arrows, and mileage, starts and ends at the Frog Hollow Horse Camp and is accessible from the youth camp.
Enduro Trail 
Level of difficulty: Hard
59.8-mile off-road trail and paved road (for street legal, registered enduro bikes only)
The ride earns its challenging rating, largely because of some lengthy stretches of woodsy roads with non-stop rocky woods, some power line riding, and one particularly tight pass. Follow the small red arrows attached to trees at turns and intersections to stay on the motorcycle path. A few particularly hairy sections, like between miles 40 and 55, offer bypass routes for novices or those riding alone. An intermediate rider can finish the loop in about five hours. So, don't forget to bring lunch and lots of snacks!
To reach the motorcycle trailhead:
In Plainfield, look for the gravel parking lot across from the intersection of Spaulding and Dow Road.
KNOW BEFORE YOU GO
Trail Maps: Chapman Area | Green Falls Area  | Snowmobile | Motorcycle
Mountain Biking Statistics and Ride Reports | Quiet Corner NEMBA | Trailforks
Please share the trail. Be prepared to encounter mountain bikers and other trail users.
No riding on hiking trails or any multi-use trail not part of the designated motorcycle trail.
All drivers must have a current motorcycle license and all vehicles current vehicle registration (A.T.V. registration not valid).
The bar gates to the Horse Camp are closed from January to April. Please access the trails through the youth camp.