Burr Pond State Park
Torrington, CT
Swim, picnic, hike the trails—and learn about the history of Borden's condensed milk. Previously a manufacturing space powered by the pond's dam, the park was the site of the world's first condensed milk factory. Gail Borden, Jr., who discovered how to preserve milk by evaporation and condensation, invaluable to the Union Army during the Civil War, built the factory here in 1857. The mill was eventually destroyed by fire in 1877, but a bronze tablet still marks the factory's original location.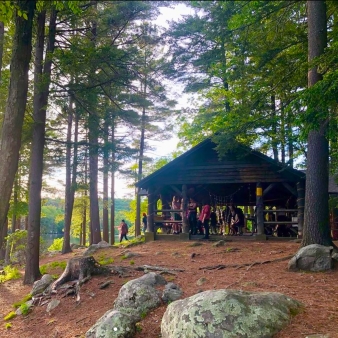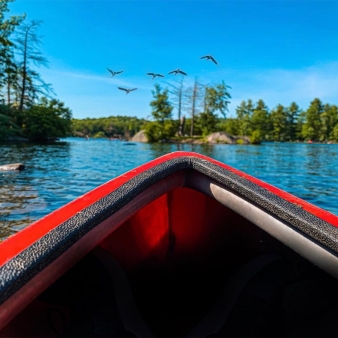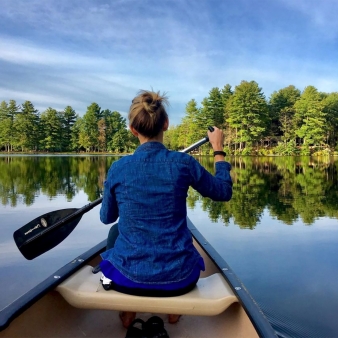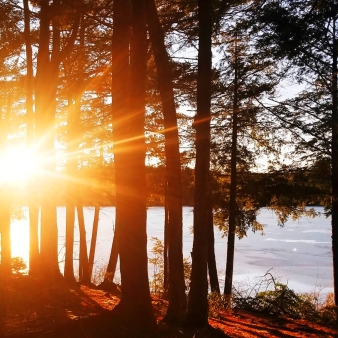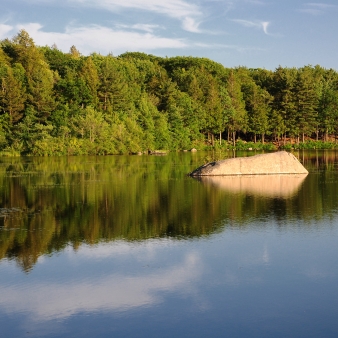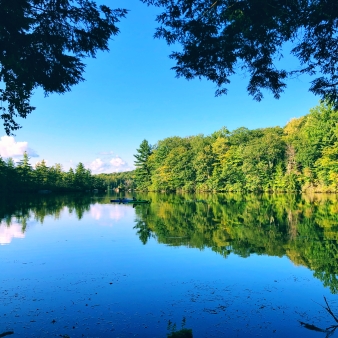 Location
384 Burr Mountain Rd.
Torrington, CT 06790
Details
Open Daily
(8:00 a.m. – Sunset)
No Alcohol
Contact
Main (860) 482-1817
Boating
Body
Explore the water beyond the beach in a canoe, kayak, or stand-up paddleboard. Bring your own or rent!
Canoe and Kayak Rentals
Available Memorial Day to Labor Day.
No reservations are necessary — rentals are first-come, first-served.
Please be aware that rental operations close for inclement weather.
Rental Hours
11:00 a.m. - 5:00 p.m. (weekdays)
10:00 a.m. - 6:00 p.m. (weekends)
Rental Rates
Single seat kayaks: $15/hour or $80 per day
Double kayaks and canoes: $20/hour or $100 per day
Stand up paddleboards: $10/half hour, $15 per hour (no daily rentals)
CASH ONLY
Rental questions?
Contact Clarke Outdoors
163 Route 7, West Cornwall, CT 06796
(860) 672-6365
Boat Launch
To reach the boat launch, follow Burr Mountain Road past the park entrance and look for the launch on the left.
Fishing
Body
Easily accessible even in the coldest winter months, the pond is a popular destination for ice fishing, too. And with plenty of panfish, the shallow, warm pond is an excellent spot for children to cast a line, too.
Types of fish: perch, bullhead, chain pickerel, largemouth bass, panfish.
Know Before You Go
Hiking
Body
Walcott Trail (Blue Blaze to Blue/Yellow Blaze)
2.5-mile loop around the pond
Level of difficulty: Easy to moderate 
This relatively flat trail circles the perimeter of the pond along the blue trail with one out-and-back on the blue/yellow trail to reach a point jutting into the pond for stunning views of Burr Pond. Family-friendly hike with some rock crossings, lookouts, and connections to other trails.
John Muir Trail (Blue Blaze) 
2.1-mile trail connector (one-way)
To access 11.5 miles of trails in nearby parks, start with the John Muir Trail. The trail links Burr Pond's Walcott Trail to the Testone Boulder.
Loop Trail in Sunnybrook State Park by crossing through Paugnut State Forest. Before leaving the forest, tack on an extra 0.5 mile to climb the summit of Walnut Mountain, Torrington's highest peak.
Know Before You Go
Picnicking
Body
Pack a picnic or swing by the snack stand for a picnic by the pond. Planning for a bigger crowd? Reserve our picnic shelter in advance. Please note, no alcohol is allowed at the park.
Open Air Picnic Shelter Rental
50 x 20-ft. picnic shelter: Space for 80 people, 10 picnic tables, two grills, and access to nearby restrooms, parking, and beachfront.
Available: Memorial Day – Columbus Day
Rental Fee: $220 (plus $9 processing fee)
Reserve a Picnic Shelter
Swimming
Body
Hit the sandy beach and cool down in the pond — its fresh waters are fed by nearby mountain streams! A dedicated, roped off swimming area and lifeguard on duty (in season) make it an ideal spot for the whole family.  
Know Before You Go
Winter
Body
Explore the park during the winter months and enjoy ice fishing, snow shoeing, and cross-country skiing.
Accessibility
Parking
Picnic Tables
Restrooms

Pets
Picnic Areas & Hiking Trails
On leash
On Beach
Not permitted