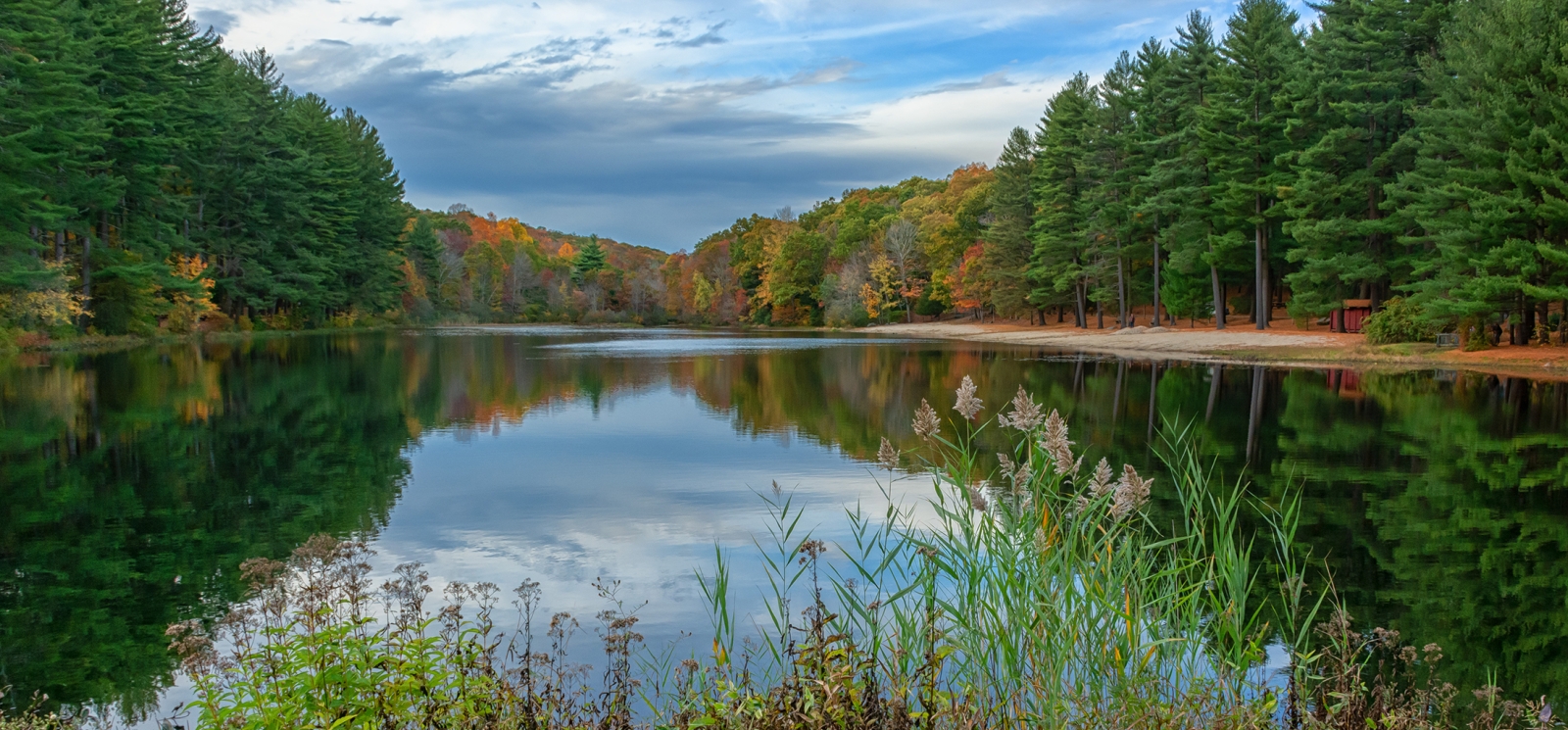 Chatfield Hollow State Park
Killingworth, CT
Hike the trails, explore the jagged rocky ledges and recesses, relax by the cooling waters, or picnic amongst the pines. With an 18-mile network of trails connecting to adjacent parks, a destination rock climbing crag, technical mountain biking, a covered bridge and working water wheel, Indian caves, and more, Chatfield Hollow is a 412-acre wonderland of outdoor adventure, beauty, and solitude.
Chatfield Hollow has a long and storied history that pre-dates its 1949 state park designation. Native Americans frequented the valley to hunt, fish, and gather amid the rock recesses and overhangs. Early settlers used the stream to power a grist mill, and there is evidence that an iron-smelting furnace was also in operation at one time. The restored waterwheel, covered bridge, old building foundations scattered throughout the park, and the occasional tribal artifact discoveries serve as reminders of the park's history.
The park is open year-round, but parking is limited to the lots along Rte. 80. There are future plans to open the road and additional parking lots to the bus parking lot during the winter season (except during snow).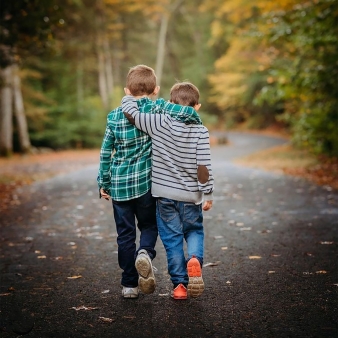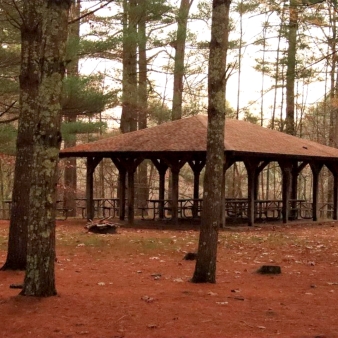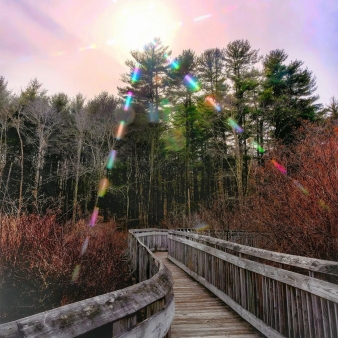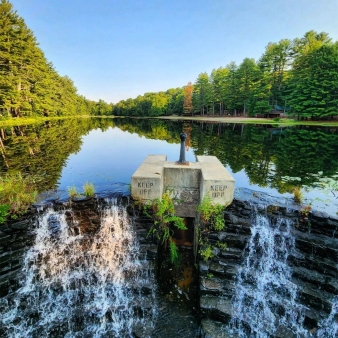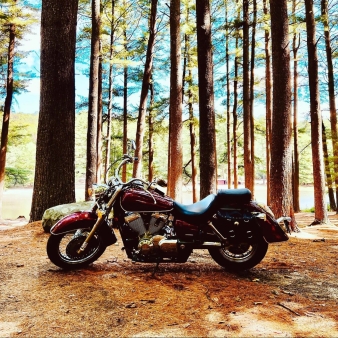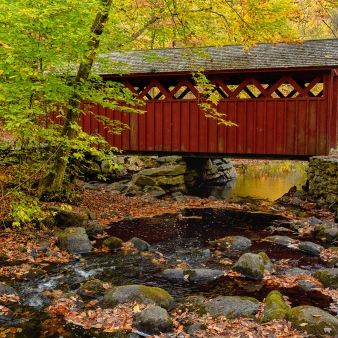 Location
381 CT-80
Killingworth, CT 06419
Details
Open Daily
(8:00 a.m. – Sunset)
Contact
Main (860) 663-2030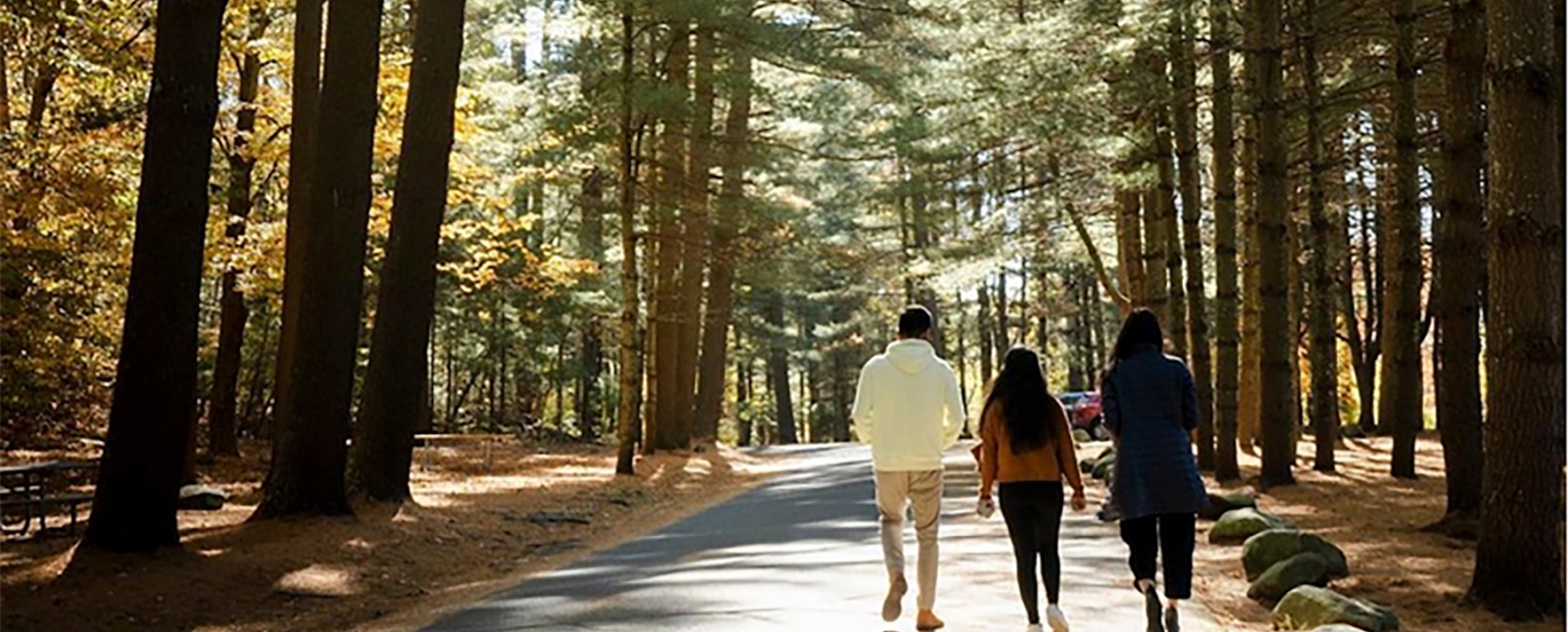 Biking
Body
Long popular with hikers and climbers, more and more mountain bikers are waking up to the rock gardens, log crossings, slickrock, switchbacks, and steeps that crisscross Chatfield Hollow. The park offers some of the most challenging, technical, gnarly biking terrain in the state. It's a paradise for expert bikers ready for adventure and a workout. Less experienced or more timid bikers will be more comfortable exploring the trails on foot.
Most bikers head to the trails that traverse both Chatfield Hollow and adjacent Cockaponset State Forest. The white-blazed Lookout Trail and blue-blazed Eastwoods and West Crest Trails are popular singletrack rides with minimal hike-a-bike required. For a faster downhill, try the gravel roads in the eastern part of the park.
KNOW BEFORE YOU GO
Because of the technical nature of many of our trails, we recommend always bringing a buddy.
Fishing
Body
Chatfield Hollow is a designated Trout Park, meaning DEEP regularly stocks the park's waters with trophy-size fish from our fisheries. Chatfield Brook, Schreeder Pond, and the smaller Mill Pond are all stocked with trout for fishing within season, offering anglers multiple fishing spots whether you prefer moving water or still — or both. Along with a rod, reel, and bait, you'll need a fishing license for anyone in your group 16 or older.
Types of fish: Brook trout, largemouth bass, rainbow trout, tiger trout
KNOW BEFORE YOU GO
Geology
Body
Rock types found on main trail:
Metamorphic (Gneiss), Sedimentary (None)
Rock Units:
Monson Gneiss (Ordovician): Light to dark, medium- to coarse-grained
Interesting Geologic Features:
Rockfall caves, glacial plucking, glacial erratics
All of the bedrock (ledge) found in the park is a hard, light-colored, granitic-type rock called the Monson Gneiss. Originally it was a granitic igneous intrusion formed at the edge of the North American continent as the Iapetos Ocean, which was roughly in the area now occupied by the Atlantic Ocean, was being forced down under the North American continent. Africa and Europe/Asia were moving toward North America. As the ocean floor plate was subducted under the continental plate, some of it melted and forced its way toward the surface. The rock we now see as the Monson Gneiss was the molten material in the magma chamber, which didn't make it to the surface and slowly cooled to form a granitic pluton. Later, as the Iapetos Ocean continued to close, either a microcontinent or Africa collided with North America and the pressure and high temperatures produced during this collision and subsequent folding of the rocks caused the metamorphism of the former granitic pluton. Millions of years of erosion of the overlying rocks has now exposed this rock, the Monson Gneiss, at the surface.
Hiking
Body
Chatfield Hollow's 18 miles of trails wind through various terrain, including dense forest, metamorphic outcroppings, Indian caves, and historical structures like a wagon wheel and covered bridge. Adjacent to Cockaponset State Forest and Forster Pond State Park, the park's trails connect into a broader network of shared trails. Other than the foot-traffic-only Blue Blazed Chatfield Trail, trails are available for cross-country skiing, hiking, horseback riding, mountain biking, snowshoeing, and trail running.
Chimney Trail (Green Blaze) 
0.22-mile loop to Indian Caves
Level of difficulty: Moderate 
A short loop that encounters a large outcrop containing multiple small rock-fall caves, once used as shelters and tribal gathering spots. The trail climbs over large boulders and a ledge, so while short, it packs a punch before meeting back up with the paved park road. Start at the southern trailhead, closest to the park entrance.
Paul Wilderman Boardwalk
825-foot boardwalk through wetlands
Level of difficulty: Easy 
This elevated boardwalk winds through the trees, giving visitors access to some of the state's most stunning wetlands without harming the delicate ecosystem. The short path also connects the park's two main paved roads and the Orange-blazed Deep Woods Trail and the Yellow-blazed Nature Trail (via a short gravel road).  
KNOW BEFORE YOU GO
Picnicking
Body
Fuel up for wherever the day takes you with a picnic at one of the many tables and grills located throughout the park. You can't go wrong whether you set up in the pine grove by the pond, grab some shade in a trail side spot, or snag a table in the open, grassy meadow. Come with a crowd? Reserve a covered picnic spot in advance.  
Open-Air Picnic Shelter Rental
20 x 30-ft. picnic shelter: Space for 50 people, six picnic tables, two pedestal grills, and access to nearby restrooms, parking, beachfront, and fire ring
Available: Memorial Day – Columbus Day
Rental Fee: $220 (plus $9 processing fee)
Reserve a picnic shelter: 
Swimming
Body
Relax in the sun on the 300-foot sandy beach and cool off in freshwater Schreeder Pond. Surrounded by majestic white pines, the seven acre swimming hole is an idyllic spot to spend a summer afternoon.
Fed by Chatfield Hollow Brook as it flows toward Long Island Sound between two high mountain ridges, the pond backs an earth and stone dam built by the Civilian Conservation Corps in 1934.
KNOW BEFORE YOU GO
Accessibility
Parking
Picnic Tables
Restrooms
Pets
Trails & Park Grounds
On leash
Beach & Pond
Not permitted